Finally it's here, my new bellicon classic 44″ mini trampoline :-).
A great device, while unpacking I noticed once again how high quality and qualitatively flawless bellicon devices are. On the one hand, there are absolutely no unpleasant smells or other things that disturb. Unfortunately, this cannot be said of every trampoline manufacturer today.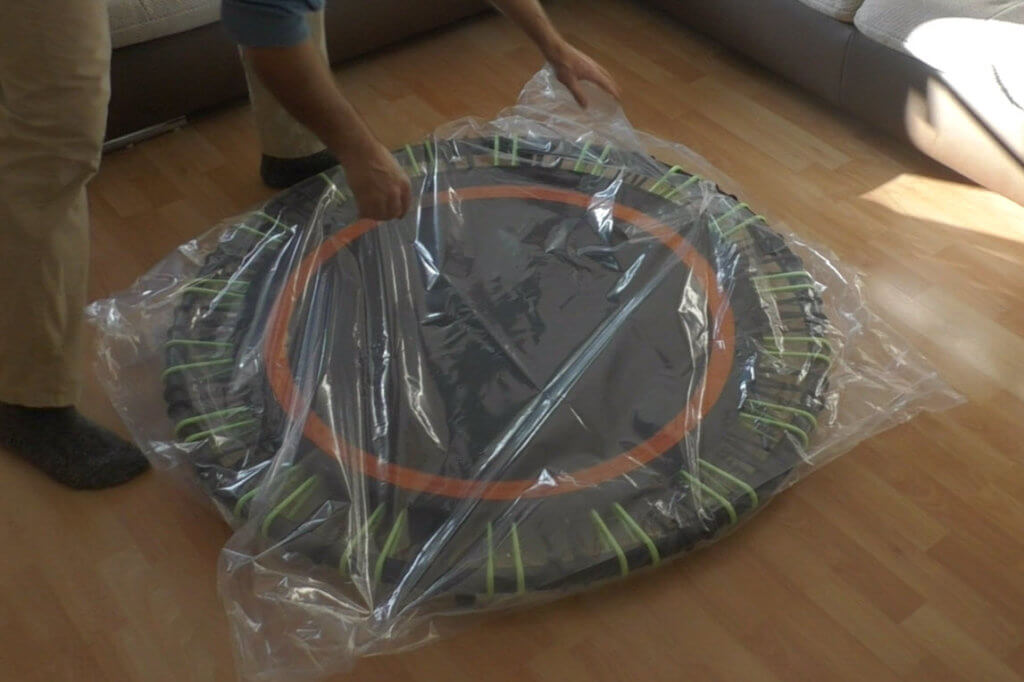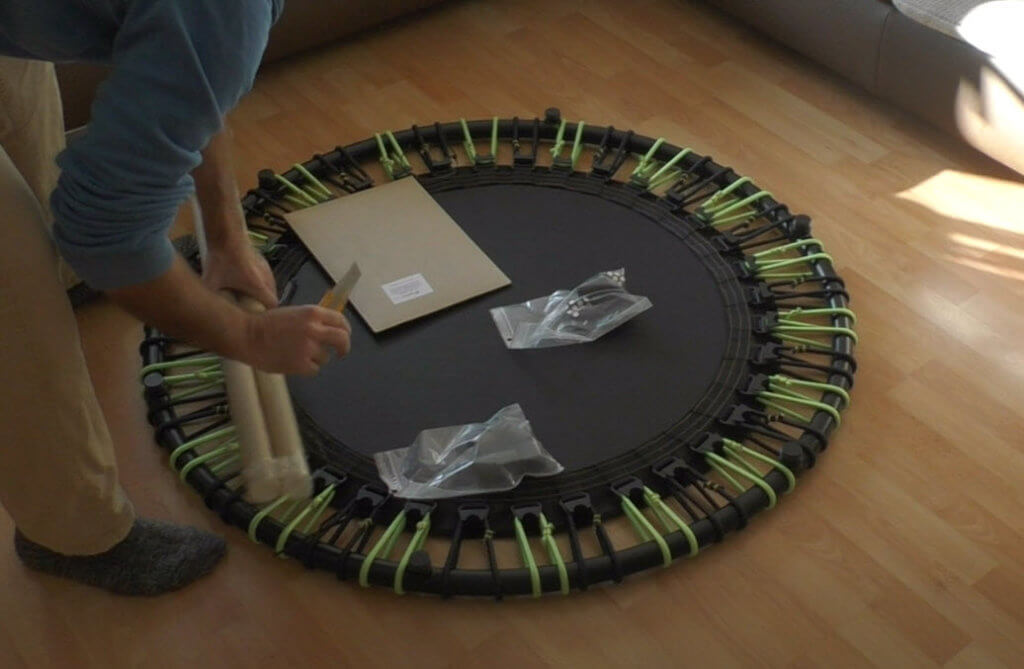 Furthermore, I have to emphasize positively the packaging form positively, because the bellicon classic 44″ is super packed and well protected for transport.
Briefly but something else about the configuration I had ordered.
1 x bellicon Classic 44": 461,00 € (incl. tax)
1 x screw legs: 0,00 €.
36 x rope ring: black and neon green, strong: 0,00 €
1 x mat black-orange: 0,00 €
1 x Rubber caps, dark grey (6): 0,00 € per cap
And this is how it looks like: -). My bellicon classic 44″
I would also like to explain why I ordered this configuration and what you should consider when choosing the right model for your needs.
How do you find the right bellicon trampoline for your needs?
1. type and size of the trampoline.
1.1. Which bellicon species / basic models are available for selection?
You can choose between the following models:
What are the differences of the trampoline models:
bellicon classic: the classic was the first trampoline model of bellicon and with its black powder-coated surface is still an eye-catcher. It has a steel frame and is available in the following three diameters: 39″, 44″ and 49″. You can also select screw or folding legs as well as 5 different fabric thicknesses. It is definitely the cheapest of the 3 other models. (from 459,00 $)
bellicon Premium: as the name implies, the Premium is the highest-quality model, as it has a stainless and scratch-resistant stainless steel frame and is not only good-looking but also antiseptic, making it well suited for use in practices and hospitals. However, the Premium is only available in 2 diameters 44″ or 49″. Screws or folding legs are also selectable, as well as 5 different fabric thicknesses. (from 879,00 $)
bellicon Plus:

the Plus has the same steel frame as the classic, but with an additional quick-release fastener bracket. The new T-bar (included in the scope of delivery) and other accessories are attached quickly and securely. This quick way of attaching accessories naturally results in a multitude of new training options, from rehabilitation training to power training. This makes the bellicon plus the most versatile model. It can also be supplied with screw or folding legs and is only available in size 44″. However, the 5 different fabric thicknesses are still available. (from 719,00 $)
bellicon Jumping Fitness:

this is an absolute power device: -), so if you plan to train at high speeds (power training), then I recommend the Jumping Fitness. Like the Plus, this model has the quick-release bracket including the T-bar. A special feature is the hexagonal frame with powder coating, the frame size is 54″. The Fitness trampoline is only available with screw legs and black rubber ropes. In addition, you can choose between 4 mat colours. It is specially designed for power training with the black/ultra strong (green clip) covering. (not available in USA)
I chose the classic because it is my second trampoline and I would like to let my children practice with it. It is not made of stainless steel like the Premium, but it fully fulfils its purpose. In addition, it is around 200$ cheaper than the premium and that has also played a significant role: -). I don't need a T-bar either, so I finally chose the bellicon classic.
Next important is of course which size / diameter the mini trampoline should have. Of course, I had to think about it in advance.
1.2. Selecting the size of the jump mat
Here you can choose from the following sizes:

In addition, as a special size for the bellicon Jumping Fitness trampoline, the size 137cm.
The classic is the only model available in sizes 39″, 44″ and 49″. The other models are available in the following sizes: premium in the sizes 44″ and 49″; Jumping Fitness in the size 54″ and the bellicon plus in the size 44″.
How big is the jumping mat of the bellicon trampoline?
That's a question I've often asked myself, so here's a short overview: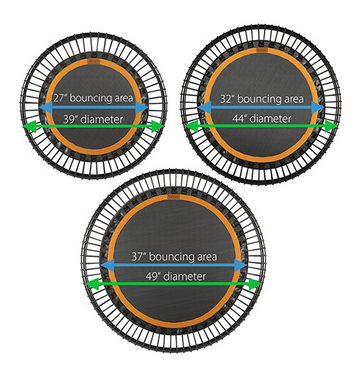 Which mini trampoline size is right for you?
It depends on what kind of trampoline training you would like to do, how big you are and how much space you have in your premises.
For example, the smallest variant with a diameter of 39″ and a jumping surface of 26″ is particularly compact and should fit everywhere. You should only choose this size if you are not larger than 66″.
The next larger model has a diameter of 44″ and a jumping mat with a size of 31″. The jumping mat size is 20% larger than the 39″ model and of course offers you much more freedom of movement, so that you can also carry out more intensive training. For example, I am 68″ tall and have no problem at all in carrying out more intensive training.
The largest round model is the 49″ diameter one, and it offers 40% more jumping mat area compared to the 39″ model. If you have the space in your room, I definitely recommend this size, because you have a really great trampoline feeling during your training!
If you choose the frame size, the "the bigger, the better" is anyway, because the more space you have available for training, the more freedom of movement you have.
Now all that is missing is the largest model, the bellicon® Jumping Fitness. This is exclusively available in only one size. It is hexagonal and has a jumping surface the size of a bellicon with a diameter of 49″. Here you can really power up if you want to: -). Together with the support rod it is a really great fitness trampoline.
What size did I choose and why?
I have chosen the size 44″ because I want to let my children train with it (9 and 12 years old) and secondly I don't have so much space in my apartment. Of course I will also train with the trampoline: -), but the size 44″ is enough for me because I don't want to do any power training.
2. screw legs or folding legs, what should it be?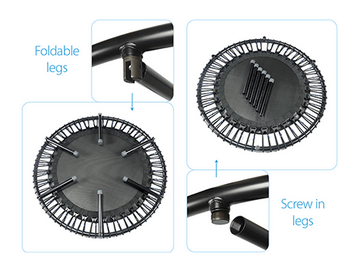 It is of course advantage if your future bellicon trampoline is always ready to swing: -). I also know, however, that this doesn't always work in terms of space. However, if you have the space available, I strongly advise you to use the screw variant. Because then it is always there for you to train. I once measured the time taken to dismantle the screw legs and this was less than 2 minutes. The assembly took about 4 minutes.
If you are one of those who have less space or would prefer to put the trampoline away and keep it out of sight, or take it with you occasionally, then folding legs would be the right choice.
There is also a carrying bag for the bellicon, which is suitable for those with screw legs. There are also additional inner pockets, so that the screwdriver can be stowed away safely!
3. What rope ring thickness should you use and why?
This is really a very important point, because the bellicon decides how soft or hard it is.
There are 5 different rope ring thicknesses, here in the overview:
And what are 5 strengths good for now you will certainly ask :-), I can explain this to you also briefly on the basis of the graphic here: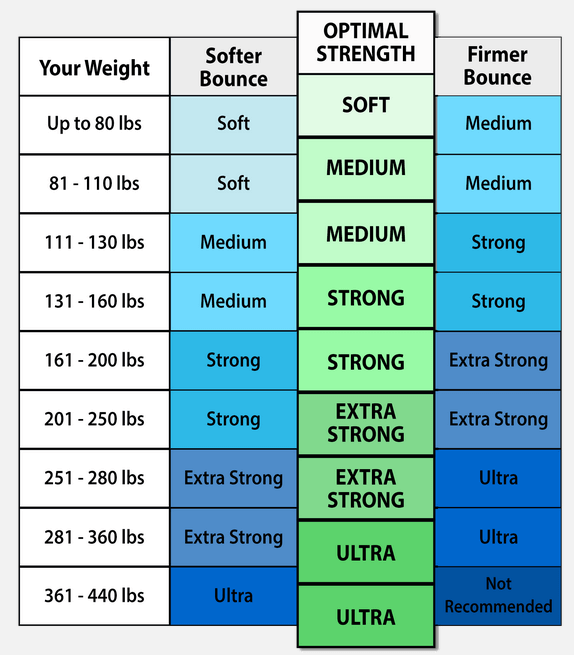 On the one hand it depends on the weight of the person who trains and on the other hand on the intensity of the training. In short, the heavier the person, the stronger the clip must be and the more intense the training, the stronger the clip.
For example, if you weigh 80 kg, the "optimal strength" to perform the so called "Health Bouncing" would be the blue clip, i. e. the average strength. With this strength you achieve the most favorable and greatest vibration.
This rope ring strength is particularly suitable if you have the following physical problems:
osteoarthritis or lymphedema in the legs
Knees or joint complaints, problems with the intervertebral discs, vertebrae, back or other complaints that require particularly gentle training.
The next higher strength level would be "strong" (yellow clip). If you prefer more intensive training, I can recommend this strength. Also if the following points still apply to you:
You suffer from osteopenia or osteoporosis.
pronation of the foot (the edge of the foot bends excessively inwards and thus strains ligaments, tendons and joints) which require special treatment or footwear.
balance problems (hold handles would be advantageous for you)
However, if you really want to accelerate, please choose two levels of stronger ropes. This allows you to achieve a high swing frequency and intense aerobic and fitness training.
A special feature is again the bellicon Jumping Fitness, there is only the ultra strong version, because this mini trampoline is made for real power training.
For example, I usually weigh 88 kg – 93 kg (in winter always a little bit more: -)), and I would like to jog on the trampoline or do more intensive exercises. That's why I chose the strong clip for myself. For example, if you only want to do light training and you weigh 83 kg, then I recommend the middle clip. But you can already see in the graphic above which clip you should use.
If you are still not sure which rope ring thickness is the most suitable, I recommend the rope ring thickness configurator.
and this is how it's done: Just click on the upper button and then go to "Which rope ring thickness" in the shop and click on "rope ring thickness configurator".
4. What colour of rope ring?
This is of course a matter of taste: -), I can give you little help. The following colours are available: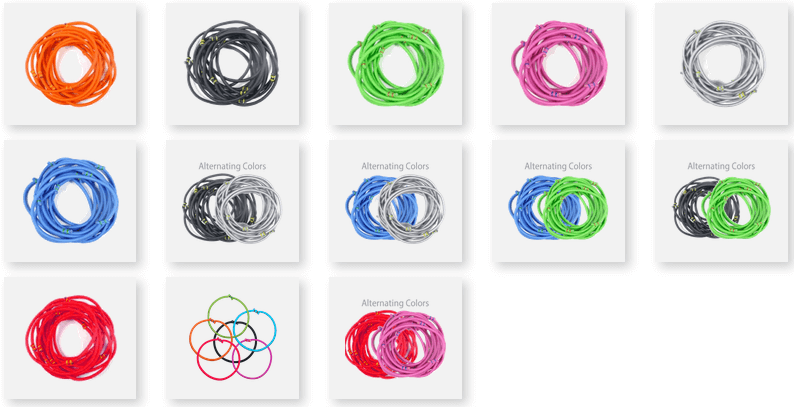 5. What colour of jumping mat?
As with the rope rings, the taste is clearly decisive here too. The following colours are available:
6. What else is there?
If you are now interested in configuring your own bellicon classic 44″ or another bellicon trampoline, just have a look here: configuring bellicon in the shop itself
If not, then I would like to show you my bellicon classic 44″ : -).
You could already see my configuration above, now I would like to introduce you to my mini trampoline.
May I introduce my bellicon classic 44″
Yes you see it correctly This is the future, because who wants to spend 8 hours sitting and not moving? According to the latest findings, this is even more damaging than smoking! That's why I'm very happy to have gotten to know this great device, which allows me to work actively. Even standing for longer periods of time doesn't bother me anymore, it's all a matter of getting used to it. And when I don't feel like swinging anymore, I drive down my workplace and sit down for a while.
This gave me a completely new feeling for life and work, I can only recommend to anyone to try it out. You are welcome to drop by my house and test it: -).
But I also wanted to show you some pictures of my mini trampoline how I unpacked and set it up.
Where can you buy the bellicon classic 44″?
Here again in an overview my mini trampoline bellicon classic 44″ with all configurations and accessories and where you can buy it.
here you can buy the bellicon trampolin >>
I will revise this post from time to time to keep you up to date with the experiences I have had in my test.
All the best
Karsten
See here my post for Health Bounce Rebounder comparison, the 3 best minitrampoline Manufacturer